Women, Men, Mutuality, and the Bible CBE's Mutuality Matters podcast is part of CBE International's online library of free resources! Hosts of CBE's Mutuality Matters team offer weekly conversations with leaders, pastors, authors, scholars, activists, and humanitarians on women, men, shared leadership, and Scripture. CBE International (Christians for Biblical Equality) advances the gospel by equipping women and men of all cultures, races, and classes to lead and serve as equals. Founded in 1989, CBE has supporters and ministry partners in over 100 denominations and 65 countries, and offers annual conferences, adult and youth curricula, a curated bookstore, multi-media resources, award-winning publications, and a blog. Learn more at cbeinternational.org.
Episodes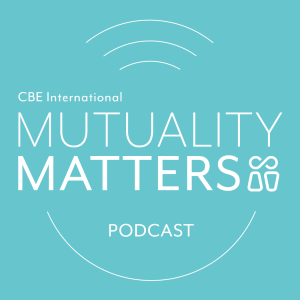 Thursday Aug 20, 2020
Thursday Aug 20, 2020
In this episode, Erin and Blake interview Dr. William G. Witt, and they tackle some of the classic arguments you have been waiting for, like passages like 2nd Timothy 2. Naturally, the hosts and guest also share personal stories about gender roles and gender theology.
Dr. William G. Witt is an Associate Professor of Systematic Theology and Ethics at Trinity School for Ministry in Ambridge, PA. He has his BA, from Rockmont College, an MA from St. Thomas Seminary, and a PhD from the University of Notre Dame. His research interests are historical and contemporary theology; the relation between Medieval and Reformation theology; spiritual theology and the history of Christian spirituality; theological methodology; philosophical theology, especially, the transformation of classical epistemology and metaphysics by the uniquely Christian doctrines of creation, incarnation, and grace. He is the author of the recently published:
Icons of Christ: A biblical systematic theology for Women's Ordination
slated to be released on Oct 30th 2020. 
Check out his site here:
http://willgwitt.org